Rocky's is a small takeout food business specializing in hand made Cornish style pasties (pronounced "pass-tees"). Family owned and operated for four generations, we continue to make our delicious self-contained meals the old fashioned way. They're prepared daily from scratch, using market fresh vegetables, angus ground beef, and our own unique crust!
Our Products
Cornish Style Pasties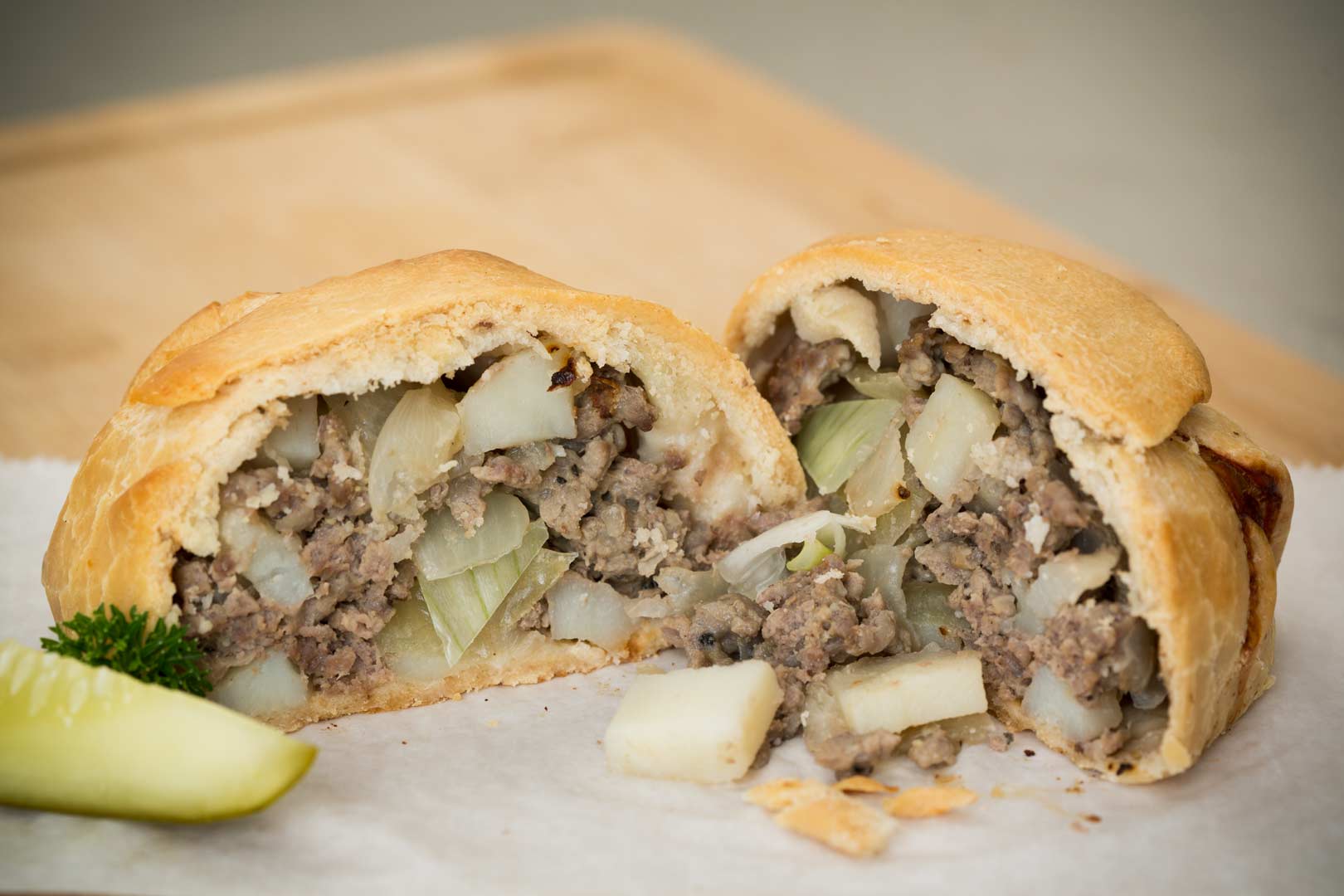 Our signature product is our Cornish style beef pasty. Ground beef, diced potato and onion are wrapped in our unique homemade crust and baked to flaky perfection. We also make two other varieties: a sweet Italian sausage pasty with bell peppers, potato and onion, and a chicken pasty with potato, onion, peas and carrots.
Our large, 8oz pasties make for a hearty and convenient meal. They can be served hot or room temperature, and with or without a condiment and a side. Serve with ketchup, gravy, or salad. We love them with pickles or cole slaw!
Kolaches
Kolaches (sometimes called a nut roll) are an eastern European dessert bread made using a sour cream based dough with a layer of filling rolled into a long loaf. We fresh bake four varieties - walnut, poppy, apricot and prune.
Polish Kielbasa
We make fresh, Polish style kielbasa using lean ground pork and spices including California garlic. Excellent both baked or grilled!
Hungarian Stuffed Cabbage
Our large Hungarian style stuffed cabbage contains ground beef, minced onion and rice. It is rolled into large leaves of tender, cooked cabbage and then slow cooked again in a light but flavorful broth with peppers, tomatoes, onions and pork bones.
Location
Address
47 Robert St.
Wharton, NJ 07885
Phone
Hours
| | |
| --- | --- |
| Mon | Closed |
| Tue | Closed |
| Wed | 11am-6pm |
| Thu | 11am-6pm |
| Fri | 11am-6pm |
| Sat | 11am-6pm |
| Sun | Closed |
Orders and FAQ
Orders
Pasties are served fresh daily on a first come, first served basis. Feel free to call ahead if you plan to pick up later in the day.
Payment methods
We now accept all major credit cards via Square!
Shipping
As a very small business, we do not currently have the capacity to ship. Many customers order and pick up frozen pasties by the case to travel with. They can also be shipped when properly packed.
Wholesale
We are a USDA inspected facility delivering our frozen beef pasties to select delis and grocery stores in the area. Our wholesale business is Port Oram Foods, Inc.
Shelf life
Frozen pasties will keep for several months. Refrigerated pasties will last for about 10 days.
Volume and Fundraising Discounts
Call for details before your next party or corporate event!
Reheating Directions
All of our products except the fresh kielbasa are sold fully cooked and ready to eat.
Because they are fully cooked and self-contained, fresh pasties will keep all day for the first day unrefrigerated. In fact, it's better to let them cool slowly before placing them in the fridge or freezer.
Pasties
Same-day, room temperature:
Leave loosely wrapped
Microwave on high approximately 60-90 seconds or until hot
Refrigerated:
Remove from package
Microwave on high approximately 3 minutes or until hot
Frozen:
Microwave or conventional oven alone will work, but the best method we've found is a combination of both:
Remove from package
Defrost in the microwave. Timing will vary depending on the microwave and how many pasties. Try 2 minutes at a time, alternating the pasties upside down and right side up.
Reheat pasties bare in the oven on a cooking sheet. Low heat (~275°) is best, about 15 minutes or until hot.
Stuffed Cabbage
Remove stuffed cabbage from plastic container!
Cut in half to reduce heating time
Microwave on high, approximately 4 minutes if refrigerated, or until hot.